Tuesday, October 16, 2018
CPTAC Releases New Datasets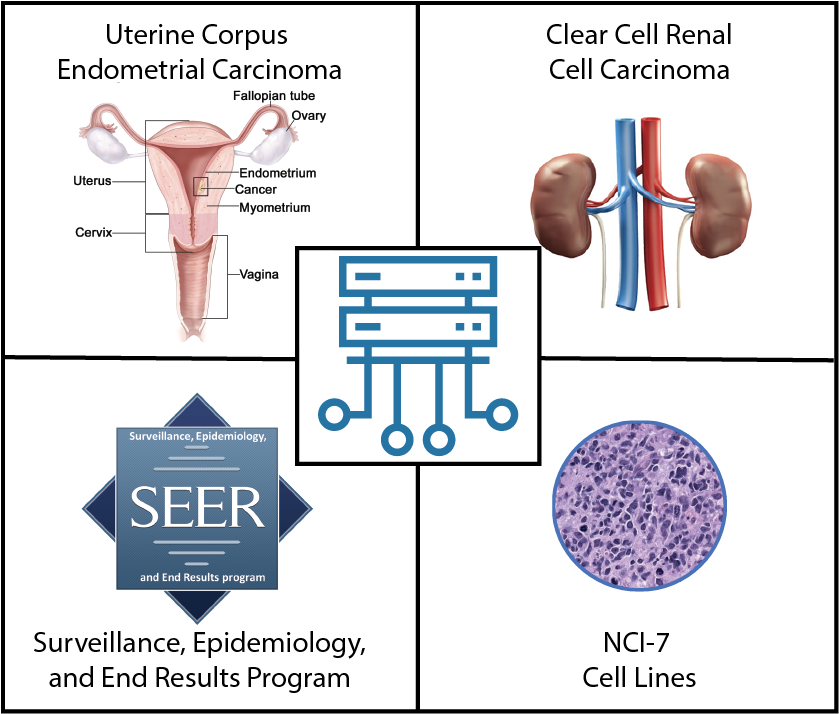 The Clinical Proteomic Tumor Analysis Consortium (CPTAC) is releasing the latest proteomic discovery datasets for Uterine Corpus Endometrial Carcinoma (UCEC) and Clear Cell Renal Cell Carcinoma (ccRCC).
CPTAC has previously demonstrated how proteogenomics reveals new insights into cancer biology. Because of the scientific progress already made by the program, CPTAC is leveraging its investment in proteogenomics by characterizing UCEC and ccRCC and providing publicly available proteomic data for these latest tumor types.
In addition, CPTAC has also released data on the NCI-7 cell line panel and the use of SEER (surveillance, epidemiology and end results) repository tissues for cancer proteomic studies.
Visit the CPTAC Data Portal to accept the data use agreement and access and download data files from these four studies.
UCEC and ccRCC Discovery Data
Endometrial cancer is the most common cancer of the female reproductive organs. It's estimated that 63,230 new cases will occur in the U.S. in 2018.
Kidney cancer is among the top 10 most common cancers in both men and women. It is estimated that 65,340 new cases of kidney and renal pelvis cancer will occur in the U.S. in 2018. CCRCC identified as the most common prevalent molecular subtype.
Both cancer types have undergone global proteome and phosphoproteome analysis following the recently published CPTAC optimized workflow. Proteome and phosphoproteome data, peptide spectrum analyses (PSMs), and protein summary reports from the CPTAC common data analysis pipeline (CDAP) are available for both cancer types.
The CPTAC publication embargo ends June 1, 2019 for UCEC and ccRCC discovery data.
Tissue Repositories for Cancer Proteomic Studies
Data is also available from the study published in Clinical Proteomics, where NCI SEER repository tissues were evaluated as a resource for proteomic and phosphoproteomic mass spectrometry analyses.
The study in collaboration with CPTAC, the Division of Cancer Treatment and Diagnosis, and the Division of Cancer Control and Population Science found protein amounts that were suitable for expression analysis in patient samples stored up to 32 years. The study opens doors for future proteomic studies and reduces the need for fresh frozen specimens.
NCI-7 Cell Line Panel
CPTAC is also committed to developing and applying analytical standards that enable the cancer research community to use reproducible and efficient proteomic and proteogenomic approaches.
With this commitment, CPTAC has conducted platform validation for each Proteome Characterization Center (PCC) using patient-derived xenografts (PDXs) as comparative reference (CompRef) material to evaluate the performance of mass spectrometry analysis and monitor workflow performance over time.
While PDX models are representative of a tumor's heterogeneity and microenvironment, implantation is highly technical, tumor growth can be slow, tumor tissue yields can be low and impact the amount of material needed for a multicenter pipeline analysis and requires the sacrifice of many animals.
As a result, CPTAC investigator Dr. Hui Zhang and her research team at Johns Hopkins University evaluated a new reference material for mass spectrometric analysis of the human proteome.
As reported in the Journal of Proteome Research, the investigators generated and evaluated the NCI-7 Cell Line Panel as a longitudinal reference standard for CPTAC-related studies, for interlaboratory instrumentation QC, and intra-laboratory benchmarking and comparison.
Comprised of seven cancer cell lines from the NCI-60 Cell Line Panel, the NCI-7 reference materials showed consistent global proteome and phosphoproteome expression profiles across three distinct sample preparations and are representative of 88% of the human genome.
Proteomic analysis identified 63% of the predicted NCI-7 genome in a single data set. Since sample preparation is critical for proteomic analyses and can impact accuracy of downstream quantitation, the investigators devised a strategy to assess sample preparation metrics that could be applied in future benchmarking studies as a measurement of laboratory performance.
These results show that the NCI-7 cell line material is suitable as a reference standard for assessing the performance of CPTAC PCCs, with potential future applications as a universal proteomic reference material.
Visit the CPTAC Data Portal to accept the data use agreement and access and download data files from these four studies.