Monday, September 18, 2017
The Clinical Proteomic Tumor Analysis Consortium (CPTAC) of the National Cancer Institute (NCI), part of the National Institutes of Health, announces the release of an educational video titled "Proteogenomics Research: On the Frontier of Precision Medicine."  Launched at the HUPO2017 Global Leadership Gala Dinner, catalyzed in part by the Cancer Moonshot initiative and featuring as keynote speaker the 47th Vice President of the United States of America Joseph R. Biden Jr., the video is part of NCI's overall effort to accelerate biomedical research and provide clinicians with new tools to select the therapies that can be used in a more individualized approach with patients.
Proteogenomics, the integration of proteomics and genomics, is an emerging approach that promises to advance basic, translational and clinical research, due to a more complete and unified understanding of biology.  Genomics is already being used to direct clinical decision-making and its integration with proteomics is likely to increase in precision medicine, that has the potential to profoundly improve the practice of medicine.  The video is intended to educate patients, cancer researchers, and physicians about these building blocks and their role in creating a continuously learning health-care system with seamless cycling between clinical care and research.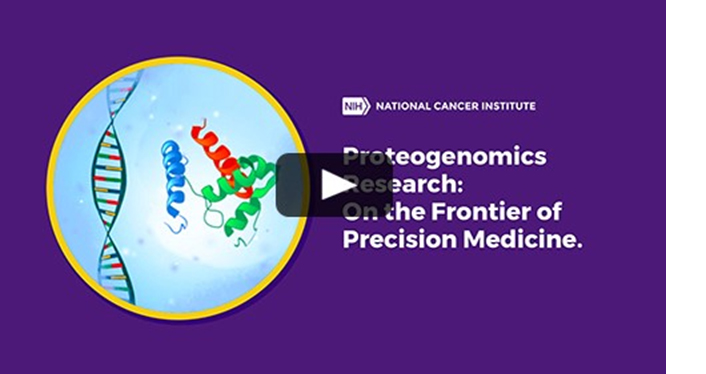 Proteogenomics Research – On the Frontier of Precision Medicine
Learn about cancer genomics, its integration with proteomics (termed proteogenomics), and how proteogenomics is anticipated to improve precision medicine.