Program Manager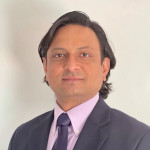 Dr. Bavarva is a Program Manager in the Office of Cancer Clinical Proteomics Research (OCCPR) at the National Cancer Institute (NCI), National Institutes of Health (NIH). He supports OCCPR's biospecimen operations using his project management experience and scientific expertise.
Before joining OCCPR, Dr. Bavarva was a Project Manager at Leidos Biomedical Research, Inc. He provided technical leadership and management support for Project Management Operations Office (PMOO), supporting the organization's project managers and executive leadership. He has also managed many projects and subcontracts for NCI's Biorepositories and Biospecimen Research Branch (BBRB), Center for Strategic Scientific Initiatives (CSSI), and Center for Cancer Genomics (CCG) related to genomic characterization, biospecimen acquisition, pre-analytical variables, and clinical biomarkers.
Dr. Bavarva has diverse experience in the biomedical field as a scientist. His most recent research focused on characterizing nicotine-induced genomic changes and studying acquired exomic variants as individuals age. He holds a Ph.D. degree in Zoology from the Sardar Patel University.