The goal of the NCI's Antibody Characterization Program (ACP) is to have three monoclonal antibodies produced for each successfully expressed/purified recombinant antigen and one antibody per peptide (1 to 3 peptides per protein). To date, over 4000 clones have been screened before selecting the current antibodies. They are winnowed down based on the projected end use of the antibody. The ACP selects up to three monoclonal antibodies that are further extensively characterized by ELISA, Western Blot, IHC, SPR, and Nucleic Acid Programmable Protein Array (NAPPA) (see pipeline) and made available to the scientific community.
CPTC Characterized Antibody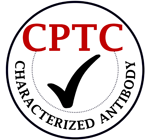 The text and trademark CPTC Characterized Antibody denotes the antibodies listed on the Antibody Portal. These antibodies with the term "CPTC" have been characterized through a standardized process (see above) and the data from this analysis is publicly available through the National Cancer Institute. "CPTC" stands for Clinical Proteomic Technologies for Cancer Initiative.