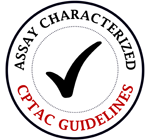 CPTAC characterized assays are defined as those that meet the criteria described in the Assay Characterization Guidance Document. This guidance document aligns with recommendations by the research community as "fit-for-purpose" validation requirements of targeted proteomics assays.
CPTAC assay characterization process comprises of a set of five experiments, as illustrated in the Schematic Representation of the Assay Characterization Guidance Document designed to help users evaluate assay performance before investing time, money and energy into adopting and deploying these assays in their own laboratories. While Experiments 1 and 2 are required for upload of assays into the portal, additional experiments are highly encouraged although optional. This Guidance Document provides assay validation requirements and instructions not only for CPTAC teams, but also for non-CPTAC researchers should they decide to submit their own targeted assays into the portal to help populate this high-quality resource. The Guidance Document also serves as a resource to authors for publication of manuscripts describing development and application of targeted mass spectrometry measurements of peptides and proteins to the journal Molecular and Cellular Proteomics.
If you are planning to submit assays for upload into CPTAC assay portal, we recommend that you use MSInspector which is a software program that runs in Skyline for quality evaluation of the five assay characterization experiments described in the  CPTAC Assay Portal guidance document. The tutorial demonstrates how to install and run MSInspector in Skyline as an external tool.  MSInspector enables researchers to test their Skyline files for statistical calculation and data visualization through the built-in R scripts. The html report file describes the details of the errors and warnings from the data containing discrepancies and displays the statistical images and tables for the non-conflicting data.
Assays currently residing in the portal are generally comprised of "Tier 2" assays as defined by recommendations for "fit-for-purpose" validation of targeted proteomics assays (Mol Cell Proteomics 2014, PMID 24443746). You can find a description of the assay portal here: Nat Methods 2014, PMID: 24972168, and a description of how to use the assay portal to implement assays here: Methods Mol Biol 2016, PMID: 26867747.