In the era of precision medicine, human epidermal growth factor receptor 2 (HER2) is one of the important predictive and prognostic biomarkers in breast cancer. At present, conventional HER2-targeting therapies improve outcomes for patients with HER2-positive breast cancer, defined as tumors having HER2 protein overexpression or gene amplification. On the horizon, emerging HER2-targeting compounds are beginning to show benefit in some patients with neither HER2 protein overexpression nor ERBB2 gene amplification.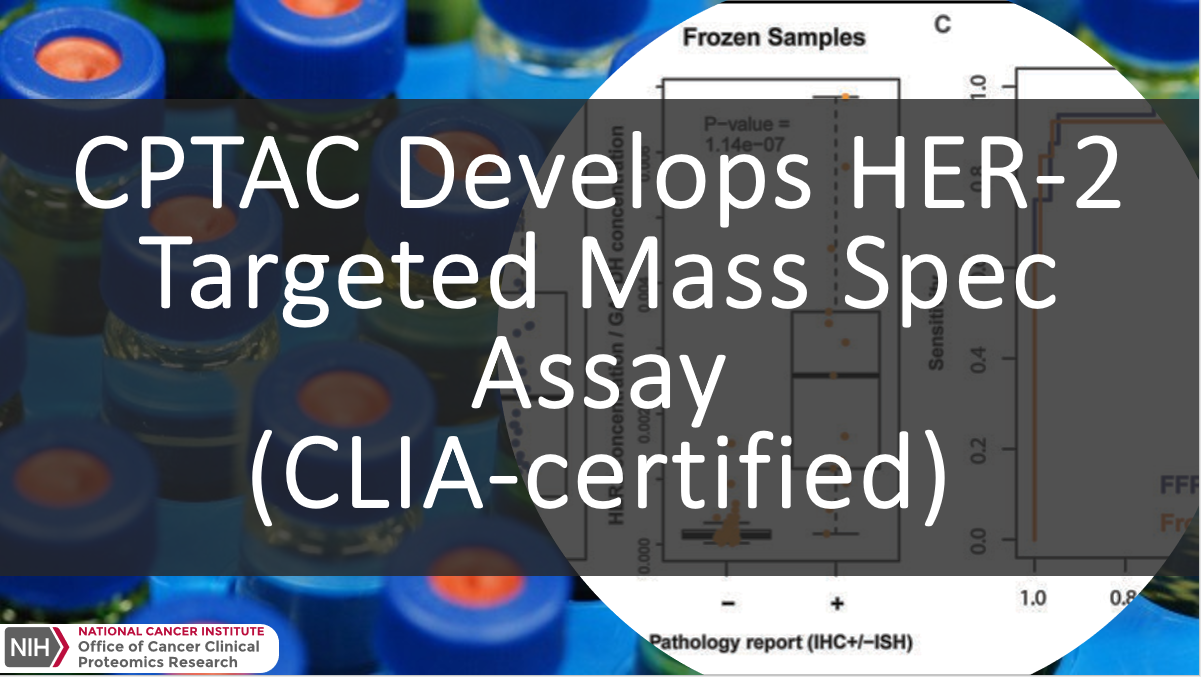 Traditionally, the HER2 status of a breast cancer patient's tumor is analyzed at the protein level by immunohistochemistry (IHC) and at the chromosome level by in situ hybridization (ISH) techniques. Patients are screened for these treatments using the slide-based techniques of IHC and/or in situ hybridization (ISH) to measure HER2 overexpression levels or gene amplification. However, these tests are unable to delineate the 'negative' subtypes (HER2-negative), creating a real-world clinical need for new assays (clinical tests) to select HER2-low tumors for treatment with these novel compounds. Accurate determination of HER2 status is critical for optimizing cancer outcomes.
To overcome these challenges, Clinical Proteomic Tumor Analysis Consortium (CPTAC) investigator Dr. Amanda Paulovich at the Fred Hutchinson Cancer Research Center, and colleagues conducted a study to determine the feasibility of using a fit-for-purpose quantitative targeted mass spectrometry-based assay for HER2 protein expression. Specifically, this team of researchers used immuno-Multiple Reaction Monitoring (MRM), an immunoaffinity enrichment technique coupled to mass spectrometry, and applied the assay to more than 200 tissue biopsies, both frozen and formalin-fixed paraffin embedded, from breast cancer patients. The researchers then compared the results to the predicate IHC and ISH assays.
Newly published in Clinical Chemistry, this study found that the targeted immuno-MRM assay was able to quantify HER2 in all tumors, even those considered to be HER2-negative using conventional assays. Furthermore, MRM-based quantitative measurements were strongly correlated with the predicate assay determinations. Importantly, the immuno-MRM assay revealed a 70-fold range of expression level of HER2 protein among breast cancers scored as HER2 negative using conventional assays. This feasibility study showed that quantitative targeted mass spectrometry assays are an effective tool for measuring HER2 protein expression in breast cancer tissues and identifying subsets of tumors that may benefit from newer HER2-targeted therapies.
The HER2 targeted assay is part of a multiplexed panel aimed at measuring multiple molecular markers and characterizing tumor microheterogeneity in biospecimens. The 23-plex immuno-MRM targeted panel (representing 13 proteins including pan-keratins, housekeeping proteins, breast cancer markers, and tumor compartment-specific markers) was developed and validated according to CPTAC experimental guidelines to ensure standardization and reproducibility. In addition, the HER2 assay is CLIA-certified in the Paulovich laboratory, with a high degree of quality control and quality assurance.
"We are very excited to have developed a quantitative immuno-MRM assay that can precisely quantify HER2 in clinical samples from any breast cancer patient. Our hope is that by moving targeted MS applications closer to clinical implementation, we can eventually improve the treatment and care of cancer patients, especially for those who could benefit from new anti-HER2 compounds that have shown significant clinical benefit in the HER2-low subset of breast cancers," said lead author Jacob Kennedy, M.Sc., staff scientist in the laboratory of Dr. Amanda Paulovich at the Fred Hutchinson Cancer Research Center.
All assay characterization information has been released in the CPTAC Assay Portal, making the assay freely available. The CPTAC Assay Portal is a public repository of well-characterized, mass spec-based, fit-for-purpose targeted proteomic assays. All SOPs and assay characterization data are also included on the Assay Portal for maximum transparency to the biological community. Finally, the portal is designed to enable users to seamlessly implement the assays in their laboratories through the use of Skyline software (a freely available Windows client application for building and analyzing targeted MS data).
CPTAC's commitment to making data freely accessible to the scientific community allows these assays to be used by cancer researchers, biologists and diagnostic pathologists to further the understanding of proteins and move the field closer to developing more effective patient monitoring and therapies.
Source: Quantification of Human Epidermal Growth Factor Receptor 2 by Immunopeptide Enrichment and Targeted Mass Spectrometry in Formalin-Fixed Paraffin-Embedded and Frozen Breast Cancer Tissues. Clinical Chemistry, 2021 Jun 17;. Online ahead of print. PMID: 34136904