Wednesday, October 23, 2019
Over three hundred proteomic explorers and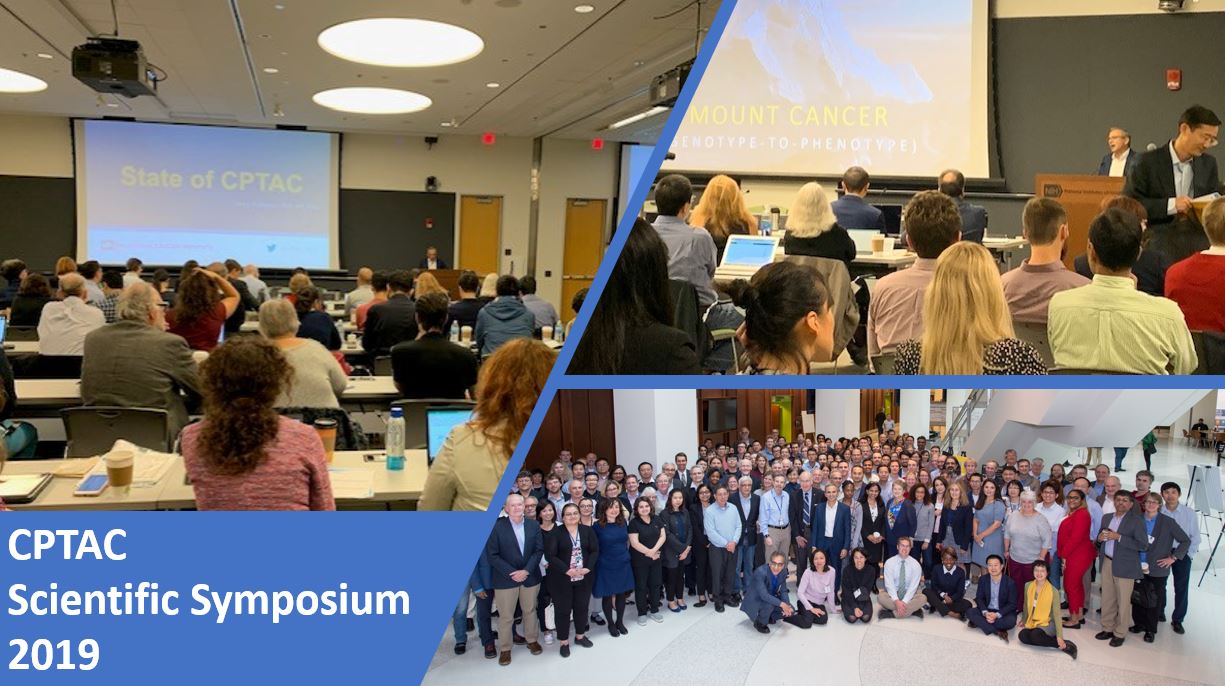 Clinical Proteomics Tumor Analysis Consortium (CPTAC) participants from around the country convened on the NIH Bethesda campus to share cutting-edge proteogenomic research in the first ever, public-facing CPTAC Scientific Symposium.
Dr. Henry Rodriguez, Director of the Office of Cancer Clinical Proteomics Research (OCCPR) and CPTAC program metric-keeper, gave opening remarks in his 'State of CPTAC' status report.  Setting the tone of the Symposium, Dr. Rodriguez oriented the attendees to the purpose, goals and current achievements of the CPTAC program.  Referring to 'Mount Cancer', he expounded on how proteogenomic research and tools were being used to make a significant impact on cancer research and drug therapy for precision oncology.
The symposium continued with talks from leaders in the field of proteogenomics, including Dr. Matthew Ellis, the recent 2019 Susan G. Komen Brinker Award for Scientific Distinction in Clinical Research recipient, and Dr. Amanda Paulovich.  Presenters talked about CPTAC's tumor characterization research and their findings in clear cell renal cell carcinoma (ccRCC), endometrial carcinoma, brain tumors (both pediatric and adult), and high-grade serous ovarian cancers.  Drs. Karin Rodland and Hui Zhang discussed the many layers of multi-omic evaluation needed to paint an accurate portrait of each tumor and identify the subtle tumor subtype differences that affect drug response.
The day was accented with complimentary remarks by Dr. Douglas Lowy, Director (Acting) of the National Cancer Institute (NCI) on the quality and significant progress the program has made and his excitement to see what the future of the program holds.
Afternoon talks focused on CPTAC translational research and clinical challenges for high-grade serous ovarian cancer, lung adenocarcinoma, breast cancer and acute amyloid leukemia (AML).  Each speaker, including Drs. Elie Traer and Michael Birrer, stressed the leap forward in understanding specific cancer types and how proteogenomic research has led to invaluable, otherwise undetectable tumor features that is changing the direction of precision oncology.
The final session of the day focused on live demonstrations of how to access the myriad of available CPTAC data and bioinformatic tools developed by CPTAC investigators for multi-omic and pan-cancer analysis.  These demonstration sessions will be available on the OCCPR website soon.