Monday, September 26, 2022
The National Cancer Institute (NCI) of the National Institutes of Health is pleased to announce the signing of a memorandum of understanding (MOU) bolstering its ongoing collaboration with the U.S. Food and Drug Administration (FDA). This MOU provides a framework that will enable and encourage the sharing of knowledge and support the formation of research teams to solve complex problems in the area of each agency's mission, with a focus on the molecular characterization/classification of tumors.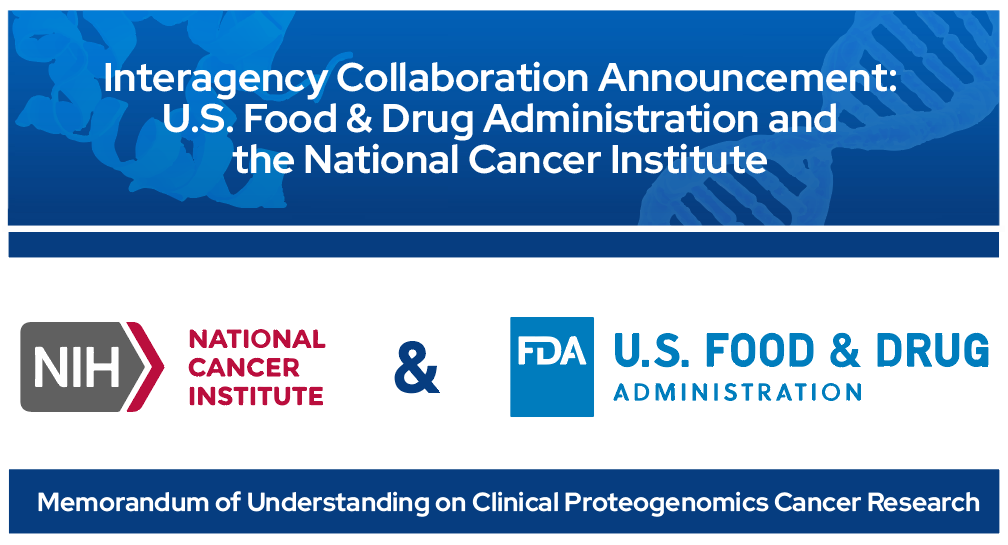 Specifically, the two organizations intend to collaborate in order to further the advancement and application of proteogenomic technologies and pipelines to improve patient response to cancer treatment, reduce the pain and suffering of patients with cancer, and improve those patients' standard of living and quality of life.        Their primary areas of focus as outlined in the MOU include: research and education; the exchange of ideas, information, and data; the development and validation of proteogenomic technologies in clinical applications; and mutual collaborations with industrial, non-profit, academic, and other government institutions and agencies.
This renewal partnership agreement with the NCI's Clinical Proteomic Tumor Analysis Consortium (CPTAC) provides regulatory science continuance on proteomic/proteogenomic analytical technologies, development of open access proteomics regulatory science documents such as mock 510(k) presubmissions, development of best practice [guidance] documents on the design, development, and validation of quantitative targeted proteomic assays by mass spectrometry, and creating open data crowdsourcing multi-omics challenges.
The FDA's Office of In Vitro Diagnostics in the Center for Devices and Radiological Health (CDRH) and the FDA Oncology Center of Excellence (OCE) combine to handle the development and oversight of oncology and hematology medical products and support an integrated approach in the clinical evaluation of drugs, biologics, and devices for the treatment of cancer. With the accelerated emergence of novel genomic and proteomic technologies, the FDA has prioritized preparing for anticipated regulatory challenges while continuing to apply scientific evidence-based oversight. The development of oncology and hematology medical products as well as appropriate evaluation methods, standard protocols, and analysis methods for their approval is essential to enhance public health.
The NCI's Office of Cancer Clinical Proteomics Research (OCCPR), supports research, training, data collections and analysis, technology assessment and standardization, regulatory science, and other programs including CPTAC, the Applied Proteogenomics Organizational Learning and Outcomes (APOLLO) network, and the International Cancer Proteogenomic Consortium (ICPC). All of these programs work in concert to improve proteogenomic technological capabilities to accelerate the understanding of cancer biology for early detection, diagnostics, prevention, therapeutic monitoring, and treatment of cancer. These OCCPR programs help advance the field of proteomics/ proteogenomics by providing high quality data with accompanying assays and protocols to the public, which will serve as the main conduit for exchange of information between these two agencies.