Wednesday, November 8, 2017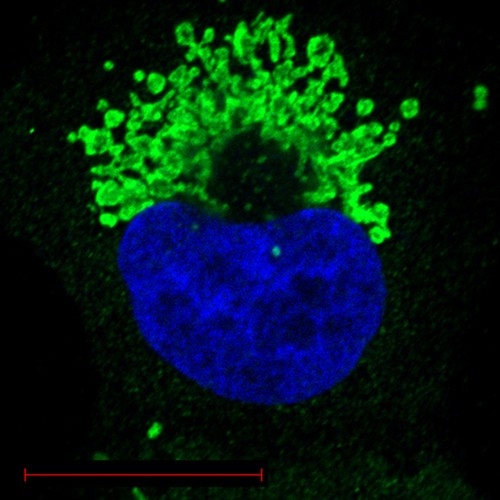 Researchers estimate that approximately 30% of all human cancers are driven by RAS oncogenes. Mutated RAS genes are responsible for making RAS proteins that support cancer development. While anti-RAS therapies may have potential clinical benefit, researchers yet do not understand how the four RAS protein isoforms, KRAS4A, KRAS4B, HRAS, and NRAS, drive malignant phenotypes. Well-characterized and defined reagents like antibodies are central to reproducibility in biomedical research and necessary for future RAS studies.
The National Cancer Institute (NCI) Antibody Characterization Program (ACP) fulfilled a request for cancer targets for KRAS4B monoclonal antibody production and characterization through the Clinical Proteomic Tumor Analysis Consortium (CPTAC). The KRAS4B clones, named CPTC-KRAS4B-1, CPTC-KRAS4B-2, CPTC-KRAS4B-3, and CPTC-KRAS4B-4 were generated against human KRAS4B protein and screened for fit-for-purpose. A recently published article in Science Signaling analyzed the validity of 22 commercially available, widely cited anti-RAS antibodies, including the four CPTC-KRAS4B antibodies. This is the first published study using the CPTC-KRAS4B antibodies.
Researchers evaluated the four CPTC-KRAS4B antibodies for specificity and sensitivity in recognizing RAS protein isoforms by Western blot. Researchers found that the CPTC-KRAS4B-1, CPTC-KRAS4B-2, and CPTC-KRAS4B-3 antibodies recognize all RAS proteins, with CPTC-KRAS4B-2 antibody showing the most sensitivity to all RAS proteins when compared to the commercially available pan-RAS antibodies tested. Researchers concluded that the CPTC-KRAS4B-2 antibody may be a useful reagent to determine overall total RAS protein expression in cells, with the Western blot results serving as a resource and guide for further qualifying RAS antibodies for additional applications.
The ACP extensively characterized the four CPTC-KRAS4B antibodies by Western Blot, ELISA, immuno-precipitation mass spectrometry (IPMS), and cross reactivity. All associated standard operating procedures and characterization data for the four CPTC-KRAS4B antibodies are publicly available through the NCI CPTAC Antibody Portal serving as a centrally located community resource of unbiased antibody validation for a large variety of renewable, monoclonal antibodies. Rigorous antibody validation is performed at the Antibody Characterization Laboratory (ACL), an intramural laboratory located at the Frederick National Laboratory for Cancer Research (FNLCR) in Frederick, Maryland, to validate antibody specificity and reproducibility, in alignment with the National Institutes of Health's Rigor and Reproducibility Principles and Guidelines.
For more information and to purchase these and other cancer-associated monoclonal antibodies, please go to the CPTAC Antibody Portal (click here).