Director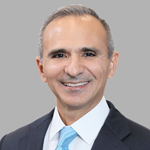 Dr. Henry Rodriguez is the Founding Director of the Office of Cancer Clinical Proteomics Research at the National Cancer Institute, NIH. Dr. Rodriguez is also a member of NCI's Senior Leadership. Recently, he served as the Assistant Director for Strategic Health and Cancer Science, in the Executive Office of the President at the White House.
A cell and molecular biologist with a background in business, Dr. Rodriguez's biomedical research has focused on mechanisms of cancer in basic and clinical science to better inform novel diagnostics and therapeutics, and the development of measurement science, standards, and technology. Previously, Dr. Rodriguez served as Acting Deputy Director of the Center for Strategic Scientific Initiatives at the NCI, and held multiple roles at the National Institute of Standards and Technology (Department of Commerce), including Founding Director of the Cell and Tissue Metrology Research Group; Health Sciences Program/Policy Analyst in the Office of the Director that involved coordination with leadership in the Department of Commerce, Congress, and the Department of Health and Human Services Secretary's Advisory Committee on Genetic, Health and Society; and Principal Investigator in the DNA Technologies Group. Accomplishments made in healthcare by the White House Office of Science and Technology Policy during his tenure include the reignition of the Cancer Moonshot, launch of ARPA-H, and modernizing clinical trials to make them more efficient and equitable to all Americans.
Dr. Rodriguez has authored more than 160 original research papers, including co-editing a best-selling book on oxidative stress and aging. Dr. Rodriguez earned his A.A. in biology from Miami Dade Community College, B.S. in biology/chemistry and M.S. in biology from Florida International University, Ph.D. in cell and molecular biology from Boston University, and M.B.A. in finance and management from Johns Hopkins University Carey Business School. Fellowships were conducted at the Scripps Research Institute and City of Hope Comprehensive Cancer Center.