The Clinical Proteomic Tumor Analysis Consortium (CPTAC) is pleased to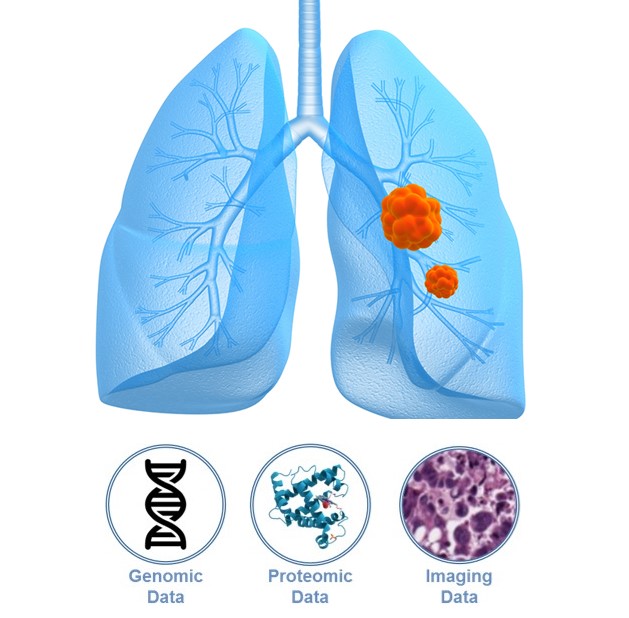 release its newest comprehensive dataset - deep proteomic/phosphoproteomic data and imaging data of Lung Adenocarcinoma (LUAD) patient tumors.  The CPTAC Tumor Characterization Program uses proteogenomic analysis to systematically identify proteins that derive from alterations in cancer genomes and related biological processes and provide this data with accompanying assays, reagents and protocols to the public that allows a wider group of scientists to extend and accelerate knowledge in unanticipated directions.
Lung adenocarcinomas make up about 40% of all lung cancers and primarily occurs in current or former smokers, but is the most common lung cancer among non-smokers.  It is a leading cause of cancer-related mortality with more than a million deaths each year.  The LUAD unique cohort boasts over 100 cases with Chinese and Vietnamese subpopulations comprising of about 50%, and Eastern European and American subpopulations making up the remaining half.  Additionally, the study includes both males and females, and almost equal amounts of smokers and non-smokers.  The prospectively collected, treatment naïve LUAD samples paired with adjacent histopathologically normal tissues, includes analysis for proteomics, phosphoproteomics, whole genome and exome sequencing, RNA-seq, DNA methylation and images. This data represents one of the most comprehensive multi-omics (DNA, RNA, protein, and imaging) datasets of LUAD patient samples in the world.
This completed dataset joins the deep comprehensive proteogenomic characterization of both Uterine Corpus Endometrial Carcinoma (UCEC) and Clear Cell Renal Cell Carcinoma (ccRCC) discovery datasets released in October 2018, also through the CPTAC Tumor Characterization Program.  The rigorous attention given by CPTAC investigators from sample collection to proteogenomics profiling have produced a plethora of information for each of these studies.  We are excited to have scientists use this publicly available information to target cancers for translational medicine.
Visit the CPTAC Data Portal to accept the data user agreement for file access. The CPTAC publication embargo ends January 1, 2020 for LUAD discovery data.